What is Kentucky Unearthed?

Kentucky Unearthed is an idea and destination where like-minded Archaeologists, Historians,  Hobbyists and History Buffs can bring individual strengths and passions together to capture, interpret and preserve the stories beneath our feet.
Connect With Your Favorite Network:
What Will You See on Kentucky Unearthed's Social Media Pages?
Artifacts from Kentucky's past including explanations and research.
Live videos of discoveries as they happen.
Visits to never before seen areas in Kentucky's historical timeline.
Events around the state related to history and Archaeology in one place.
Videos from adventures exploring Kentucky's past from people all over the state.
Commentary about the methodology to preserve the provenance and context of artifacts found.
Who are the Followers of Kentucky Unearthed?
Metal Detecting and Arrowhead Hunting Fans
Archaeologists (Prehistoric and Historic)
Authors and Historians
Anthropologists and Sociologists
Students, Teachers, and Professors
Genealogists and Family History Enthusiasts
Hobbyists and Collectors
State and National Historic Park Staff
Who have you collaborated or worked with?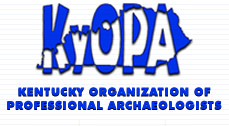 Enjoy!!!!