Phoenix Hotel – Henry Straus Cigar Bar Tavern – Lexington, KY
These are two Phoenix Hotel (1820s – 1977) Henry Straus Cigar Stand tokens (1920-1930s?) from Lexington. I found both, but one was in Bourbon Co. and one was in Lexington. What are the odds?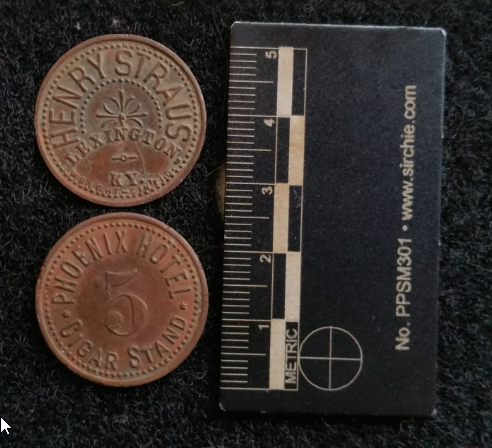 In many hotels (and other businesses.) the tokens were given out to guests with their change for a purchase to encourage a repeat visit to the cigar stand. Of course they hoped you'd also buy a drink or three while there! It is possible this token was actually given to people while shopping elsewhere in some kind of "affiliate" arrangement.
Henry Straus was a famous Tobacconist from the Cincinnati area, and this article does a nice job discussing its legacy.
The site of the hotel is now the Phoenix park downtown in Lexington as the hotel was demolished in 1987. The hotel has some civil war history, including use as a headquarters by General William "Bull" Nelson, General Braxton Bragg, and General Kirby Smith.
Even earlier, the site was a popular spot, called Keene's (or Postlethwaite's) Tavern, which reportedly sheltered President Monroe, General Jackson and Governor Isaac Shelby when they visited Lexington together July 3 and 4, 1819. It was a three story structure that burned so the Phoenix could "rise from the ashes." Lucretia Hart Clay, the wife of statesman Henry Clay, had business ventures selling eggs, butter and milk to the Phoenix Hotel during the 19th century.