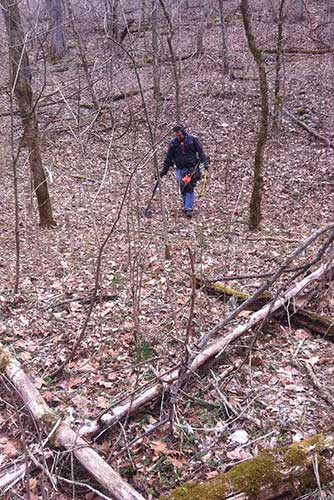 Last week I started on a brand new detecting/archaeology volunteering/partnership working with my friend, the "Bourbon Archaeologist" Nick Laracuente. Our new project is surveying and excavation of the Jack Jouett distillery in Kentucky.  (You can get involved in this project by visiting this page.)
For the first visit, the task was to try to define the borders of the site.  After a couple of hours of fruitless but enjoyable detecting with the E-trac (modern bullets and shotgun shells were plentiful) I located this minuscule button (image below.)  We'll get it dated soon, but its construction is from the mid 1800s to my eye.
I was hunting in all metal mode, and shortly afterward, I began to hear a few nails.  And then more… And then an explosion.  In one test hole I pulled more than 15 mid-1800s cut nails.   And it wasn't isolated – the nail field went on for the size of a large house.   Defining this area was my task for the day, and the Archaeology volunteers began shovel test pits which were very productive.   I have another part of the site to survey and will possibly begin a non-ferrous search over the nail field in future visits.
Stay tuned… much more coming from this site (click subscribe to the right.)
A bit about the location:
"In many ways, Kentucky's identity is built on the historic success of the distilling industry. In pioneer Kentucky distilling corn whiskey was not a luxury; it was an economic necessity. Gallons of whiskey were traded in place of money to purchase goods, labor, and property. Before the 1820's the transportation infrastructure in many areas of Kentucky made it impossible to get corn to market before it spoiled. Distilling the corn into whiskey preserved the product until it made it into the market and sold for more money by volume.
As an early Kentucky settler and successful agriculturist, Jack Jouett would have participated in this economy. Jack operated a distillery and mill on Craig's Creek from the late 1700's to the early 1800's when he traded the distillery to Charles and Peter Buck in exchange for one thousand gallons of whiskey. Fortunately for us, he was never paid. The documents from the resulting litigation list landmarks that led us to the location of his distillery and give us inklings into parts of his story that we may be able to access through archaeology."
Kudos to the Kentucky Heritage Council and the Kentucky Distillers Association for their generous sponsorship of the project, and their commitment to preservation of this part of the commonwealth's history.
The streambed at the site provided some nice sights and sounds
This is by far the smallest button I've ever dug.  Just made a peep on the E-trac
Full props to the sponsors of this project!