During a recent metal detecting hunt at an 1810s location, I was scanning a hillside that had very few signals at all.  Suddenly, my headphones exploded with a solid 11-47 on the E-trac.  It was so shallow, 2″, that I was sure I'd found another modern, Clad Quarter.  I almost walked by!   But I was in careful detecting mode (1810 location!) and went ahead and dug it.   But there was nothing at the surface as expected.  I went ahead and created a broad plug…When I did, I could see just the tip of the bowl at around 3″, and I knew I had a spoon – probably silver.  Usually, however, the handles are broken or horribly bent.   This one was intact and beautiful, with a floral motif.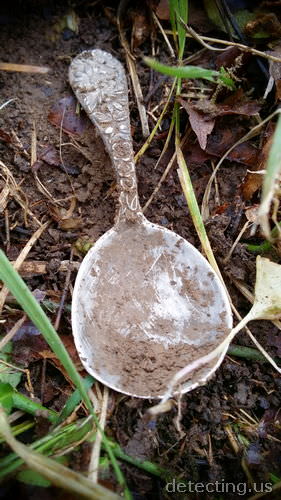 I turned over the spoon to see if it was Silver and look for maker marks.   When I didn, I noticed the engraving "Ann" on the handle, and I knew that I might have a family heirloom for the owner.   I walked up where the property owner was doing some chores and asked… "Does your family have an 'Ann'?"   .. He replied.  "Yes, it's my late Aunt."   I showed him the spoon and his jaw dropped.  "Then this should stay with your family" I told him.
He will be returning it to Ann's children at Thanksgiving – and I hope it brings back some loving memories of their Mom.

c1932 S Kirk & Son Sterling Silver Child's Spoon – Left with Property Owner and Descendent.