Metal Detectorists and Relic Hunters Appalled by Augusta GA Cemetery Desecration
Update:  Suspects identified, warrants issued.  And no, it was not detectorists.  h/t Eddie Current for notifying me.
Note: The indigogo fundraising idea has been stopped after negative feedback from the detecting community
All indications are that these were grave robbers / relic hunters stripping soldiers' personal artifacts – and even worse, a child's grave.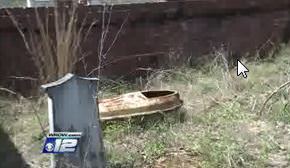 Before you say "But these were grave hunters, not relic hunters" The public does not make a clean distinction between groups like we do in the hobby.  They just know the people were after artifacts, and that they are the scum of the earth.  Responsible relic hunters do things differently.
…the story:
BURKE COUNTY, Ga. (WRDW) — The Burke County Sheriff's Office is looking for suspects following the desecration of Revolutionary and Confederate graves.
The graves are in the Old Church Cemetery on Idlewood Road. The grave robbers turned over head stones, opened and removed caskets from the ground.
Sgt. Sean Cochran of the Sheriff's Office says this was not an act of vandalism. The grave robbers removed the clothes worn by the soldiers buried there leaving their bones exposed.   Read the rest.
update:
The Burke County Sheriff's Office has identified two people in the desecration of Confederate and Civil War graves at Old Church Cemetery.
Jerry Atkinson and Ralph "Bubba" Hillis of Waynesboro are now wanted for malicious removal of the dead from a grave.
American Legion Post 120 Commander Leroy Bell discovered five graves that had been dug up and pillaged on April 13.
Warrants are now outstanding for Hillis and Atkinson. Anyone knowing the whereabouts of these two individuals is asked to contact the Burke County Sheriff's Office at 706-554-2133. Callers may remain anonymous. The public's help in this case is credited for the overwhelming response and tips received.